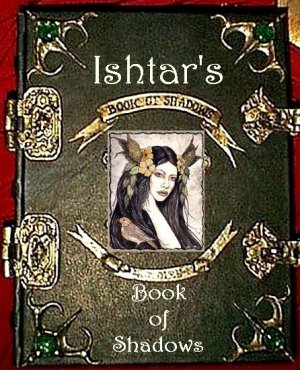 Lady' Ishtar's "Book of Shadows" is over 200 pages in length and contains beautiful graphics and illustrations.
My "Book of Shadows" contains hundreds of new spells, as well as a complete list of Magickal Herbs, Flowers, Roots, Trees. Herbs of the Druids, and Herbs of the Holidays. Along with a section on "Metal Magick".
Those who purchase a book will be notified of Updates when they become available.
All of the spells are completely explained to insure no errors.
Each book is password protected. Your Book of Shadows is for "Your Eyes Only" unless you choose to share.
You will need Adobe Acrobat Reader version 5.x or later to view my book.
Get version 6.0 now. I
After you purchase and download your book be sure to see the read me file.
It contains your password and information on Adobe Acrobat Reader.
All this for $15.00
After you complete your Pay Pal transaction
Be sure to click Pay Pal's Last [CONTINUE] button.
This will take you to a download web site.
Be sure to read the BOSreadme text file
It contains important information
If you have problems with Pay Pal please

me.